Self-Care For People Who Hate To Work Out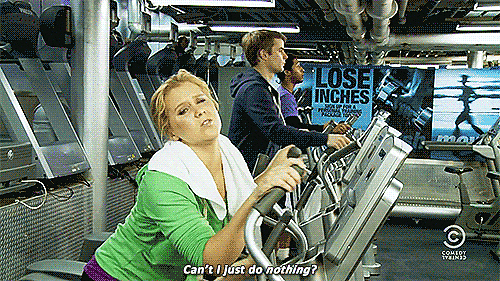 There was a point in time I used to look forward to working out, you know, sweating for fun: All the positive vibes that flow from the increase of endorphins after a long day of meetings that could have been emails, socializing at the gym during the 5-8pm peak, "complaining" about the DOMS the next day, the whole nine. Then somewhere along the midnight express of grad school to turning 30, I shifted all of my focus and energy into perfecting my trade while putting myself on the back-burner.
Mid-way into my masters degree, I sought out to be the most effective clinician, #youth and wanted to learn ALL of the skills. As my rate of referrals began to increase, I started to measure satisfaction in external achievements; after all this was an indicator that I was successfully doing what I sought out to be, right? Fast forward to running my own baby practice. My schedule was overbooked, I was happy, but the cycle of putting out more than I was personally receiving aggressively continued. My enjoyment for working out turned into a problematic chore, a distraction, and interference, because it was taking me away from what I thought I needed to be doing. Relatable? After a while of trying to manage the two, you just get to a point where you just shout:
This sucks.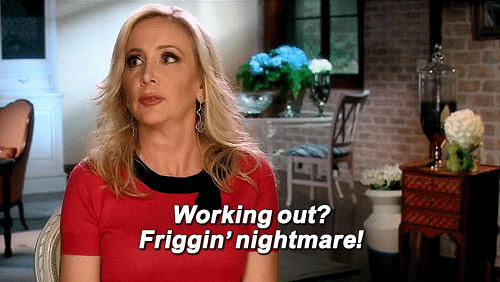 That group class you try to book after you get out of work -- who the hell can remember to log-in during the special window of time? Then you get banned out of said class because you're more than 15 minutes late when you knew you weren't going to make it there on time anyway. The gym traffic adrenaline? -- More like, why are there so many people here and why aren't these new headphones I bought to motivate me to be on this machine not drowning out these bro-grunts? Well on the upside at least you look "active"? --- More like I guilted myself into buying these new gym clothes, only for me to really wear them to go buy Chik-Fila and then feel guilty that Fenty and LuLu have all my damn money.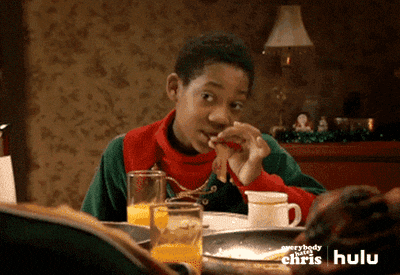 Let's be honest. There are just other things we'd rather be doing than working out. We know it's an investment in ourselves but we don't see any of the benefits until after you put in some work. Even though you know it's a solid move to help you in life, or hell, just stay around a little longer, it does not take away the fact that exercising can make you feel guilty, ashamed, and terrible. Remember my philosophy: self-care isn't always easy and sometimes makes you not fun.
The topic of wellness is hot right now. Understanding the impact of your mental health, in particular, is increasingly gaining traction and I'm here for it. That being said, there's a reason Fit Tea is booming and the sweat shops that make those waist trainers stay busy. Because waking up to 6AM Motivational memes and putting on your compression pants to run a few miles or dead lift the weight of a few small goats is inspiring. The Instagram gym aesthetic, meal preparation, + next level, near death Crossfit challenges = the lit life.
But this post isn't for ya'll. Don't get me wrong; I love reading and seeing all of the early riser captions and at times it will inspire me to be a better human for like 9 days. But TBH, I'm probably going to read it, double tap like a good gram user, and then roll back over and go to sleep before I have to fight my alarm clock. No matter how much sleep I get the night before, I'm always going to hate waking up at 5am. This post is for the people in the struggle trenches like myself. We know what we should be doing, but we also really like waffle fries. We should diligently pop in that Jillian Michaels DVD, but we'd also rather talk trash on GroupMe and Line with one leg outside of the duvet.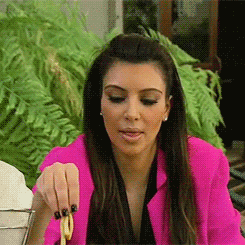 Staying consistent with exercise has and will continue to be a challenge for me; It's frustrating, but I acknowledge it. Not only because I know exercise is a necessary evil, but because I also understand (the overwhelming empirical research) that it supports my mental health. Walking 15 minutes alone can help you release enough brain chemicals to change your entire day. But you know, that still doesn't make it any more less terrible.
Positive Distraction Of The Week
This week suit up, and get active (disclaimer). A body in motion, stays in motion, so let's introduce a few easy exercises that you can do to stay emotionally healthy. Still think you have no time? Try a few Deskercise approaches. Need help figuring out how you feel? Here's an awesome interactive tool to help you navigate the day. At the very core, let some form of structured physical activity guide your self-care idea this week. Although this is the we hate cardio club, we can't deny the benefits, so let's commiserate together. Also, let's talk about incentives. What favorite knick-knacks and tips do you use to give you a little extra push? A new playlist? A new pair of socks? Find out what items you can put in place to help you win and break a sweat toward strengthening your mental health wellness this week. Here are a few things that help me ease the struggle and they might be helpful for you too. Let me know in the comments and stay strong friend.
Shop My Workout Essentials:
Birdie is a unique 2-in-1 hand sanitizer containing 20 mL hand sanitizing spray and 10 textured dry wipes. Yes, dry wipes. So you can have a germ reducing sheet any time you need to on demand. This is a super cute product that is perfect for clean hands on the go. Why this makes the list? Because the worst thing in the world is post-gym acne. You touch dirty machines and then you touch your face (or your phone that then touches your face). Keep Birdie in your car to keep your digits clean.
I previously blogged about this natural skincare brand and raved about their Vitamin C serum, which is still in fact: Lit. Their hydrating nutrient mist is also top notch. Why it makes the list? The effects of sweat on your face is a nightmare and sometimes you may not be able to wash your face directly after working out; so take a baby step and mist your skin to remove impurities that you've just sweat out. The hydrating mist includes Milk Thistle that works to block toxins from entering cells, ginkgo biloba, a powerful antioxidant and anti-inflammatory, green tea, which offers antioxidant protection from free radicals and white pine bark that Naturally aids in skin hydration. I may or may not look ridiculous as I spray this at each red light heading home, judge me.
Upgrade your hydration status. Fressko is an awesome (and quite stylish) water companion that can be used as a fruit infuser flask, tea flask, thermos flask, and reusable cup. Fressko has a double glass body, that provides an insulated, chemical free infusion system so you can get your liters in. You already know about the healing powers of water and if you ever needed any #mondaymotivation, this is surely it. I like to load up the flask with citrus and Vitamin-C based fruits to infuse while I'm hitting Kanye's workout plan. Simply remove Fressko's filter by unscrewing the bottom component, add your desired fresh fruits, vegetables and herbs, lock the infusion basket component into place and let the water soak up the nutrients. BAM; Why it makes the list? When I return to my car, there's a custom brew that helps me avoid making that right turn to get ice cream: winning.
What you eat while you're working out can have an impact on your performance. Feed your machine. Energy gels > energy bars because they are rapidly absorbed via osmosis. Hüma is a tool for glycogen supplementation. When you exercise for more than 45 minutes, you run the risk of hypoglycemic shock, which basically means your body runs out of its glucose (energy). Hüma provides an alternative fuel source so your glycogen lasts longer providing hydration and maximum energy. Hüma also has great taste varieties. My favorites are Strawberry, Mango, and Berries and Pomegranate (Hüma+). Why it makes the list? This product is boss because it gives you the juice to sustain your workout + requires you to drink water to get the juice flowing, so you're also marking off your recommended water intake each day; check you out. Bonus: no hell-ish post caffeine binge crashing.
Minera Dead Sea Salt is the same 100% pure, mineral-rich salt used in spas and treatment centers around the Dead Sea in Israel. The San Francisco Bath Salt Company's formula includes essential minerals such as Magnesium, Bromide, and Iodine. Adding Dead Sea Salts to your bath helps to soothe and cleanse the skin while relieving tired and sore muscles. The high concentration of minerals in the Dead Sea are what gives Minera Dead Sea Salts their strong mineral scent. The small inorganic specs you may see are natural earth elements that, like the mineral scent, are characteristics of genuine Dead Sea Salts and are a good way to tell you are receiving Dead Sea Salts as nature intended them to be. Why it makes the list? Skin therapy baby. Ease the DOMS with by pouring a large handful of Minera Dead Sea Salt into a warm running bath for a relaxing and detoxifying soak. Settle in to relive stress, stiffness and/or ease muscle aches and pains or for a stimulating body scrub, mix equal parts of Minera Dead Sea Salt and olive oil or body wash and gently massage your body. This product dissolves really well and quickly. It helps to keep your skin really soft in a spa-like experience. After a workout soak and rejuvenate your skin. This blend is relaxing, and you do float in the tub!
Egyptian Magic All-Purpose Skin Cream has been on the market since August 1991 with a solid track record. It's an all purpose balm that you can use virtually anywhere for moisture; elbows, ankles, knees, cuticles, and anywhere you need moisturizing. I wouldn't recommend for the face unless you have very dry skin. This is a multi-task product that would also be fantastic as an agent for a post-workout recovery massage. Why it makes the list? It's an all natural product that only has six ingredients in including olive oil, honey, beeswax, bee pollen, royal jelly, and propolis extract. The product absorbs by the morning, just in time for your next "enjoyable" run.
After it's all said and done, end your workout with a treat. Mask: Special collaboration facial mask nude seal sheets containing: Bamboo Extract has the ability to cool down heat and calm sensitive skin. It retains moisture for a long time with an abundant moisturizing power in bamboo sap. Cedar wood extract helps circulation in the skin and protects sensitive skin by reducing the resistance of foreign matter harmful to the skin. Thuja Extract provides a soft tension to the skin and helps prevent oxidative stress. Allantoin is a natural substance extracted from places like oaks that helps provide skin relief by healing small wounds and tears on the skin, promoting healthy skin regeneration. Why it makes the list? The bamboo extract leaves the face with vitality and freshness. Speed up absorption of Mask by spraying Da Mior's bamboo mist afterward.
These are a few of my current favorites to trick me into thinking I'd rather be exercising than watching Netflix. What are your tricks? Feel free to share the love via the links below to someone who could also use a few investment ideas. Thanks so much for following up this week. I'm already looking forward to session with you next Sunday. You can like this post below via heart-moji and be sure to share this with a friend. Follow-up in one week!
+cover photo taken by nomadic.bantu
+Many thanks to Olika, Mad Hippie, Fressko, HUMA, SF Salt Company, Egyptian Magic, and Da Mior for their support in this blog. This is not a sponsored post + products were provided for editorial consideration. All opinions and thoughts about the businesses featured are my own. I stay true to your weekly followup.